Written by Sebastian Wanke | 01 July 2013
Posted in sentix Euro Break-up Index News
In June, the sentix Euro Break-up Index (EBI) drops from 21.85% to now 19.95%. With its third decrease in a row the indicator now almost reaches its February reading. The small decline can be explained with fading sorrows concerning Slovenia and Cyprus. For these two countries the national EBI display the most pronounced drops. But this month there is also a formerly well-known exit candidate coming back to investors' minds.
The country which is now again topping the EBI ranking is Greece. Its EBI increases against the backdrop of the latest government reshuffle by 2.7 percentage points to now 15.8%. This is the second highest reading this year for the Southern euro country. Cyprus, thus, is not the number one exit candidate for investors anymore. The Cypriot EBI falls from 14.8% to 13.6%.
The country with the third highest EBI this month is Germany, although its EBI recedes a little to 3.0%. While the German index is still standing clearly above significant levels, the same does not hold true for the indices of the two heavy weights of the euro periphery. Investors almost do not perceive Italy or Spain as potential exit candidates anymore: The EBI for Italy stays virtually unchanged at 1.6%, whereas the Spanish index decreases to rather negligible 1.0%. That said, it has to be noted that less than 1% of institutional investors among the survey participants expect Italy or Spain to leave the euro zone within the next twelve months. And, as we know from our other sentix data, usually it is institutional investors' expectations which are the better guide to the future.
Last month we have spoken about a divided periphery. Now, this picture has become more concrete: Investors do not see the large economies of the euro periphery as exit candidates anymore. In turn, Greece has come back to the fore, and Cyprus is following suit. But all in all, June's Euro Break-up Index shows that the euro zone crisis is continuing to fade, slowly but surely.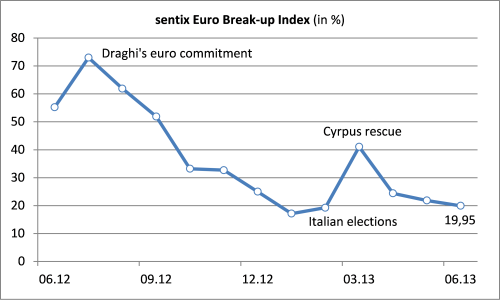 Annotation: A reading of 19.95% means that currently about one in five investors expect the euro to break-up within the next twelve months. The EBI had reached its highest reading in its 13-month history in July 2012, standing at 73%. Its lowest reading with 17.2% was registered in January 2013. The June poll was conducted from June 28th to June 29th, 2013. 968 individual and institutional investors took part in it.