Written by Sebastian Wanke | 13 May 2014
Posted in Special research
In May, sentix Emerging Markets Bonds Sentiment rises for the third time in a row while institutional investors rediscover the asset class for themselves. This should have a continued positive impact on the prices of emerging-markets bonds for still some time.
sentix Emerging Markets Bonds Sentiment increases further and now stands at 3.5 points. This means that a growing majority of investors is now optimistic for the asset class – although there remain many question marks behind the developments in the Ukraine or in Syria and behind the economic dynamics of China, for instance. Investors currently do not see these factors as concrete risks for the asset class as a whole.
It is the camp of institutional investors which leads the rise in sentiment for emerging-markets bonds. As the yields of government bonds in the Western world have fallen lately, professional investors are now obviously looking more intensely for alternatives in emerging markets. Bonds have performed very well in these regions since the beginning of the year. This also explains the improvement in investors' sentiment which, nonetheless, does not look excessive so far. Consequently, it is quite probable that even more investors will come back soon to this market which many of them had left after Ben Bernanke's tapering announcement about a year ago.
These additional investors will then drive emerging-markets bond prices even higher. But a pre-condition for this to happen is that the above mentioned risks do not aggravate and then lead to investors exiting emerging markets in general, after all.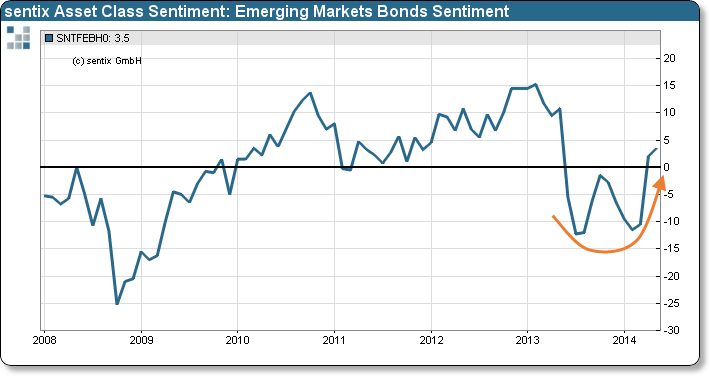 Indicator background
sentix Emerging Markets Bonds Sentiment is surveyed on a monthly basis since April 2007 and part of the sentix Asset Class Sentiment survey which is regularly conducted around the second Friday of each month. Further indicators of the sentix Asset Class Sentiment family of indices are sentix Bitcoins Sentiment, sentix Commodity Sentiment, sentix Credit Sentiment, sentix Emerging Markets Equity Sentiment, sentix IPO Sentiment, and sentix Real Estate Sentiment.
Participants in the sentix surveys on asset class sentiment may choose a category from a range of 1 to 5 to show how inclined they are towards an asset class in relation to the others. The indicator may fluctuate between -100 and +100 while the third category (category number 3) of the given range marks the zero line and signals neutrality.
The current survey was conducted from May 08 to May 10, 2014. 945 individual and institutional investors took part in it.