Written by Manfred Hübner | 12 February 2018
Posted in Special research
In February 2018, according to the investors surveyed by sentix, the pressure on the financial markets from policymakers will noticeably increase again. The sentix policy barometer drops from -0.1 to -0.34 points. The main reasons for this are the tugging around the "brexit", but also the forthcoming elections in Italy.
Politicians' influence on the financial markets noticeably increased in February 2018 and increasingly burden investors' expectations. This is shown by the sentix policy barometer, which was surveyed by sentix among around 1,000 investors from 7-9 February 2018. The sentix policy barometer falls clearly from -0.1 to -0.34 points.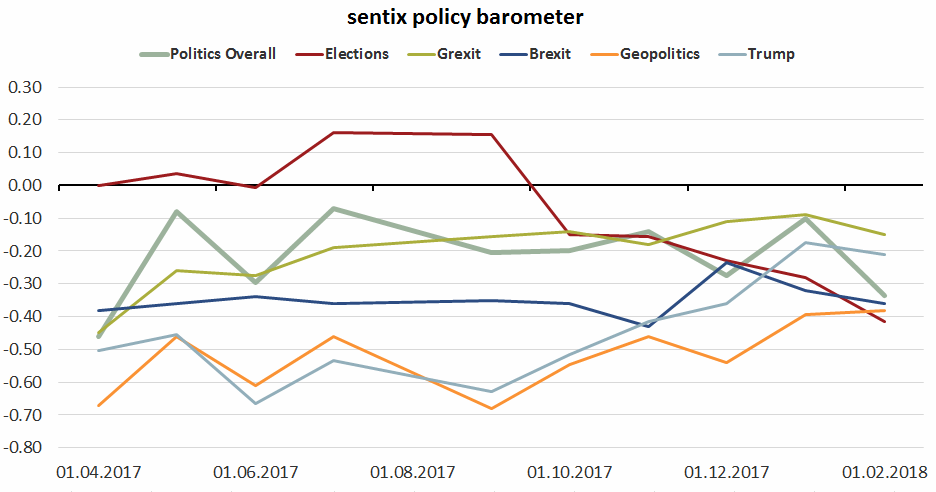 A look at the sub-indices shows which developments lead investors to adopt this skeptical stance. The sub-index "Elections" recorded the largest decrease. The parliamentary elections at the beginning of March are the highlight of the coming weeks. The SPD's decision to form a Grand Coalition is also on the agenda for the coming weeks. Investors fear that at least one of the two events could become a burden on the markets.
In addition, it is above all the tug of war around the Brexit that makes investors very insecure. Despite saber-rattling in the Middle East, however, investors do not expect any serious geopolitical fires.
Background
The sentix policy barometer is conducted monthly in the second week of the month. It is intended to show whether and which policy issues from the investor's point of view are decisive for the capital market developments. In addition, we looked at the policy of the current US administration precisely from the current occasion.
The current survey was conducted between February 07th and February 09th, 2018, among more than 1.000 private and institutional investors.