Written by Sebastian Wanke | 28 April 2014
Posted in sentix Euro Break-up Index News
In April, the sentix Euro Break-up Index (EBI) falls from 10.9% to 9.8% and thus below the 10 percent threshold for the first time since its launch in June 2012. The reading shows that now less than one in ten investors expects at least one country to leave the euro zone within the next twelve months.
While recently it was Portugal whose EBI decreased surprisingly fast, this month it is Spain that displays the most pronounced drop in its index. The Spanish EBI falls from 1.3% to 0.6%. In contrast to the previous months, the yields of Portuguese and Spanish 10-year government bonds are now priced in line with their corresponding EBI readings (see graph). Meanwhile, the picture looks different for Italian bonds. For Italy, the EBI climbs to 2.2% and, with that, stands at a clearly higher level than the ones for Spain and Portugal. This makes Italian government bonds look too expen-sive, if one takes the EBI readings as a yardstick (see again graph).
Turning to the rest of the so-called periphery countries, the highest EBI readings can still be observed for Greece (7.1% after 7.5%) and Cyprus (4.1% after 4.8%). Greece's successful return to the capital markets at the beginning of April does not seem to have impressed investors anymore. On the contrary, they probably have anticipated the event. This is, at least, the story the Greek EBI is telling: it has been falling strongly since last summer when it had reached a temporary high at around 20% in July.
Among the so-called core countries of the euro zone, Germany stands out this month. The German EBI falls from 1.6% to 1.0%. This marks an all-time low for the country and can be interpreted as a further sign that investors think that the euro crisis is over. Among the group of institutional investors there is – just ahead of the European elections – even no-one left expecting Germany to exit the euro within the next twelve months.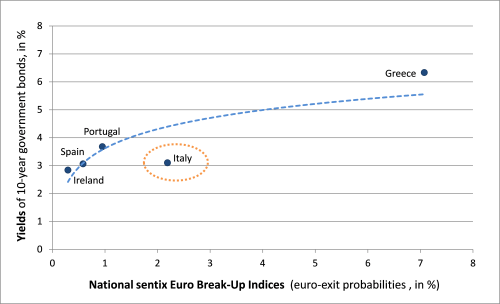 About the sentix Euro Break-up Index: The current sentix Euro Break-up Index reading of 9.8% means that currently this percentage of all surveyed investors expects the euro to break up within the next twelve months. The EBI has reached its highest reading in its 23-month history at 73% in July 2012, and its lowest reading – before the publication of this month's survey results – at 10.9% in March. The current poll was conducted from April 24 to April 26, 2014. 922 individual and institutional investors took part in it.