Written by Sebastian Wanke | 31 August 2015
Posted in sentix Euro Break-up Index News
The sentix Euro Break-up Index (EBI) falls from 26.5% to 17.2% in August, its lowest reading since November last year. The development is driven by the fact that an increasing number of investors do not expect a "Grexit" anymore. This makes Greek government an opportunity.
The fading "Grexit" fears are mirrored in the national EBI for the Hellenic Republic which drops from 25.0% to 15.9%, also its lowest level since November 2014. While the political risks in Greece have risen with the fresh announcement of snap elections, the third rescue package for the country has clearly taken shape over the recent weeks (for in-stance by its adoption by the German Bundestag). For the rest of the countries the EBI moves scarcely in August, the exception being Cyprus for which the index decreases to a new all-time low at 2.3%.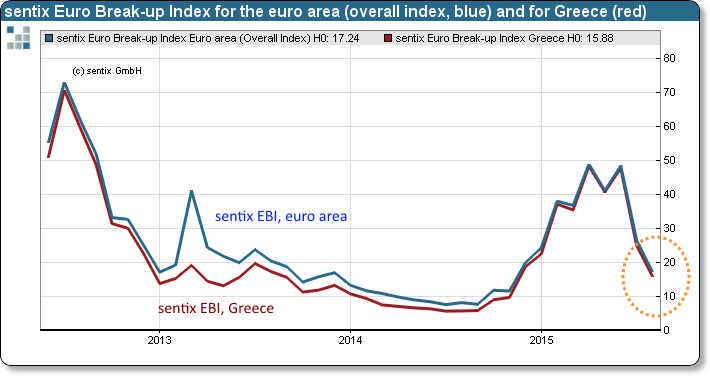 This month's takeaway is thus that first and foremost a strongly growing number of investors expect Greece to be kept in the euro zone. Such a scenario makes Hellenic government bonds rather attractive. Here, the current EBI readings indicate further potential – supposed investors will start to act according to their expectations reflected in the indices. For 10-year Greek government bonds, for instance, the national EBI for Greece – all other things equal – points to yields clearly below 8% – and thus turns them perhaps into to the most interesting trade in the "govies" market at the current juncture.
Background
The sentix Euro Break-up Index is published on a monthly basis and was launched in June 2012. Its poll is running for two days around the fourth Friday of each month. Results are regularly published on the following Tuesday morning. Survey participants may choose up to three euro-zone member states of which they think they will quit the currency union within the next twelve months. This month's reading of 17.2% means that currently this percentage of all surveyed investors expect the euro to break up within the next twelve months. The EBI has reached its high at 73% in July 2012, and touched its low at 7.6% in July 2014.
The current poll in which 981 individual and institutional investors participated was conducted from August 27 to Au-gust 29, 2015.