Written by Julien Mueller | 01 March 2016
Posted in sentix Euro Break-up Index News
The sentix Euro-Break-up Index (EBI) raises three points to now 19.9% in February. The latest rise marks the fourth straight increase in a row after being propelled by Greece's return to the stage of the euro-drama.
For the first time since July 2015, the sentix Euro-Break-up Index (EBI) is close to rise above the 20 percentage point watermark (+3 percentage points in comparison to previous month). In the past, values above 20% have been accompa- nied by tough media coverage about the Eurozone's future (see chart). Alarmingly, with Greece (+4 percentage points), investors push an "old acquaintance" back in the spotlight of the euro crisis.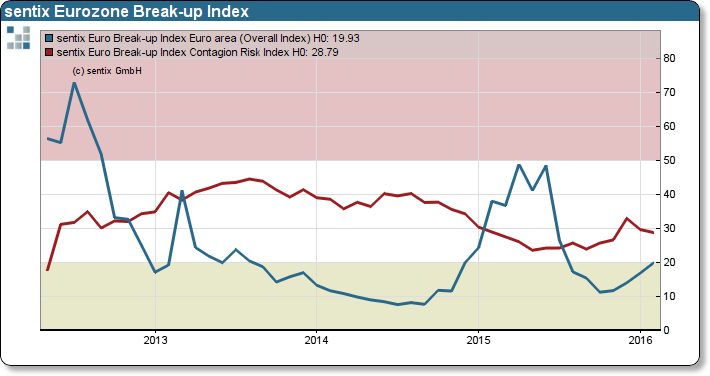 Moreover, concerns arise as especially institutional investors express their worries. The development of the sentix EBI shows that polled investors believe that the euro crisis is not over yet. The latest EBI value for Portugal, after having climbed to the highest reading since September 2013 (+0.75 percentage points to 3.15%), hints into a similar direction.
For this month, we only can announce positive news for Finland: After the Finnish EBI value nearly quintupled between November 2015 and January 2016, the latest reading declines against the prevailing trend by around three percentage points.
Background
The sentix Euro Break-up Index is published on a monthly basis and was launched in June 2012. Its poll is running for two days around the fourth Friday of each month. Results are regularly published on the following Tuesday morning. Survey participants may choose up to three euro-zone member states of which they think they will quit the currency union within the next twelve months. Further details on the sentix Euro Break-up Index can be found on: http://ebr.sentix.de. This month's reading of 19.9% means that currently this percentage of all surveyed investors expect the euro to break up within the next twelve months. The EBI has reached its high at 73% in July 2012, and touched its low at 7.6% in July 2014. The current poll in which 1089 individual and institutional investors participated was conducted from February 25 to February 27, 2016.