Written by Manfred Hübner | 29 June 2015
Posted in sentix Euro Break-up Index News
In June, the sentix Euro Break-up Index rises from 41.2% to 48.4%. Investors are thus almost perfectly split into two halves regarding their expectations on countries exiting the euro. In turn, they are much clearer on contagion dangers of which they think that they are barely existing.
With its increase to 48.4% the sentix Euro Break-up Index (EBI) reaches again about the level it had displayed two months ago (see graph). Its fluctuations are mainly explained by the seesaw changes relating to Greece. This is shown by the national EBI for the Hellenic Republic which – after a fall in May – bounces back from 40.7% to now 47.7%, a reading broadly confirmed by an additional survey carried out on Sunday, the day after the Greek decision for a referendum on a new aid package was announced.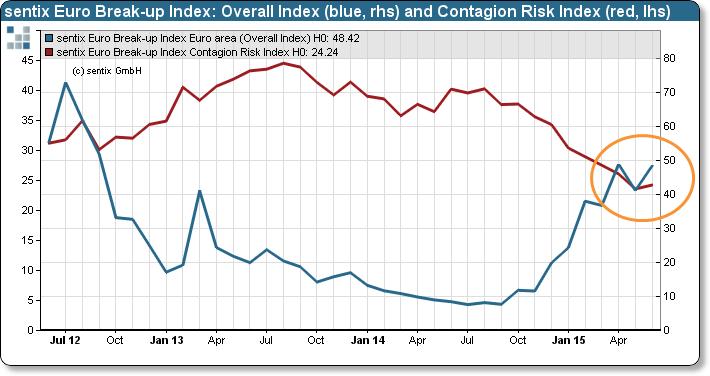 Investors are thus split on their euro-exit expectations for the next twelve months. In contrast, they are relatively clear as far as their votes on spreading dangers are concerned: The sentix Contagion Risk index increases only slightly by 0.6% to now 24.2% and thus stays very close to its all-time low reached last month.
Consequently, investors still see the rest of the euro-zone countries staying in the currency club and that with a high probability! In fact, the national EBI for Cyprus (7.9% after 6.3%), Portugal (2.2% after 1.3%) and Germany (2.0% after 1.3%) go up. But their movements are – against the backdrop of their historical developments and the rise in the Greek EBI – rather weak. This is good news for the spreads of government bonds of the so-called periphery.
Background
The sentix Euro Break-up Index is published on a monthly basis and was launched in June 2012. Its poll is running for two days around the fourth Friday of each month. Results are regularly published on the following Tuesday morning. Survey participants may choose up to three euro-zone member states of which they think they will quit the currency union within the next twelve months. Further details on the sentix Euro Break-up Index can be found on: http://ebr.sentix.de.
This month's reading of 48.4% means that currently this percentage of all surveyed investors expect the euro to break up within the next twelve months. The EBI has reached its high at 73% in July 2012, and touched its low at 7.6% in July 2014.
The current poll was conducted from June 25 to June 27, 2015. 985 individual and institutional investors participated.