Written by Manfred Hübner | 27 January 2020
Posted in sentix Euro Break-up Index News
The situation in the euro zone, measured by the sentix Euro Break-up Index, remains relaxed at the start of 2020. In contrast, the eagerly awaited regional elections in Italy left investors cold. Both the overall index and the sub-index for Italy fell slightly in the run-up to the elections.
The sentix Euro Break-up Index for the euro zone fell to 5.47% at the start of 2020. It is thus only slightly above the all-time low measured in November 2019. This is good news for the ECB, as the Euro-Zone continues to show relative stability. In this regard, Mario Draghi's move to the new ECB president Christine Lagarde can be considered a success.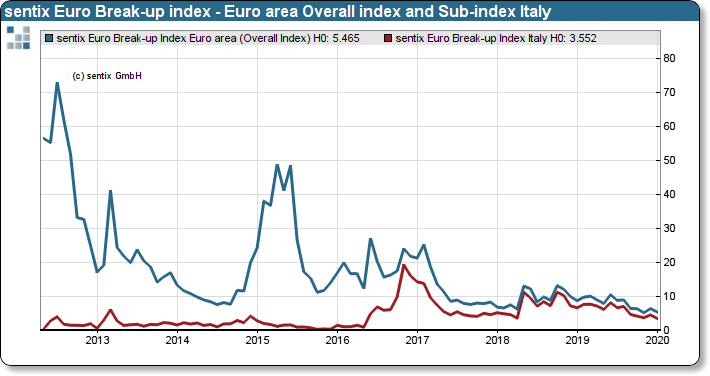 sentix Euro Break-up Index: Euro area Overall index and sub-index Italy
The regional elections held last weekend in Italy have not left a negative impression in the view of the investors sur-veyed by sentix. The sub-index for Italy also fell slightly from 4.57% to 3.55%. Although the measured values for all eu-ro countries are at very low levels, Italy remains the country most likely to cause instability in the euro zone from the perspective of investors. The former problem child Greece has long since ceased to play the leading role for investors in this regard.
Background
The sentix Euro Breakup Index is published on a monthly basis and was launched in June 2012. Its poll is running for two days around the fourth Friday of each month. Results are regularly published on the following Tuesday morning. Survey participants may choose up to three euro-zone member states of which they think they will quit the currency union within the next twelve months. Further details on the sentix Euro Breakup Index can be found on https://ebi.sentix.de
This month's reading of 5.465% means that currently, this percentage of all surveyed investors expect the euro to break up within the next twelve months. The EBI has reached its high at 73% in July 2012 and touched its low at 5.205% in November, 2019.
The current poll in which about 1.000 institutional and retail investors participated was conducted from January 23rd to January 25th, 2019.