Written by Manfred Hübner | 12 September 2018
Posted in Special research
The price of silver has suffered considerably in recent weeks. The troy ounce fell from almost 17 US dollars to just over 14 US dollars. And if you only look at the market price, there is still no end in sight to the downward movement. However, a first glimmer of hope is to be announced from the sentiment.
This is because the sentiment for the white precious metal has also fallen significantly in line with market prices. With a value of -0.14, the sentix sentiment barometer for silver is again at a level that enabled an at least temporary recoveries in July 2017 and also in December 2017. This opportunity is here again. However, the situation at the beginning of Au-gust this year shows that there are also false signals.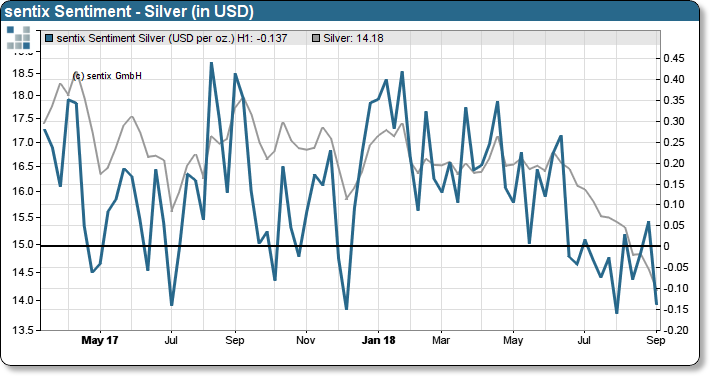 sentix Sentiment – Silver (in USD)
The probability of a positive signal increases if, for example, in addition to a weak sentiment, there is also increasing basic trust and a low positioning. That is exactly what is happening at the moment. Investors' strategic bias remains at +0.35, meaning that investors see silver as offering medium-term opportunities. At the same time, however, these in-vestors have adjusted their positions considerably due to the falling prices. According to the COT report, non-commercial investors have turned their holdings from +100,000 contracts to currently -28,974 contracts since spring 2017. This gives us the chance that silver could regain some of its shine for the rest of 2018.
Background
The sentix Sentiment indices, which capture investors' 1-month expectations for a broad range of financial markets, are calculated on a weekly basis since 2001 as part of the sentix Global Investor Survey. The sentix sentiment reflects human emotions – between greed and fear – of market participants. Negative sentiment extremes are usually a straight indica-tion for rising prices. High optimism, in contrast, may be a warning signal for an upcoming market consolidation. A sentiment divergence mostly indicates more important turning points.
The latest sentix Global Investor Survey was conducted from 06-Sep to 08-Sep-2018 with about 1.000 retail and institutional investors participating.