Written by Sebastian Wanke | 27 July 2015
Posted in Special research
sentix Sentiment for gold falls to a new all-time low. Never before since the start of the survey in 2006 was the mood among investors thus as bad as at the moment. In the past, such extreme situations were precursors of price reversals at the bottom. But we may have to wait still some time before such a reversal occurs.
sentix Sentiment for gold – polled via sentix Global Investor Survey over the last weekend – decreases by 19 percentage points to a new all-time low of -44% (see graph). Consequently, investors' mood for the yellow metal has reached a low point not seen so far. Such situations in which a vast majority of market participants expects prices to fall further were in the past mostly followed by price reversals over the consecutive weeks.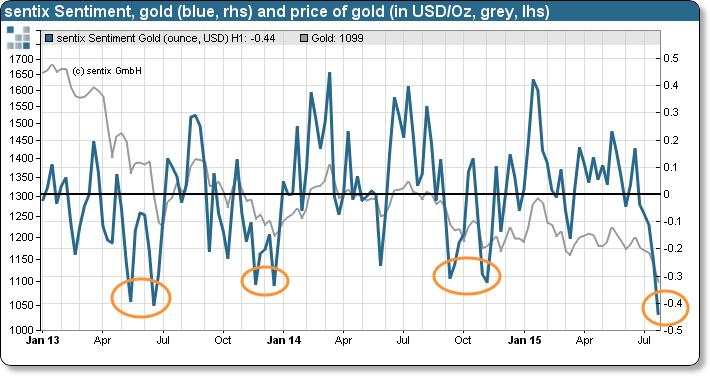 We find that the current setting can best be compared to summer 2013 (see graph). Sentiment had then dropped to a similar low as at the current juncture, but had – after a brief recovery – to fall again before the price of gold could finally pick up. Alike situations could be observed at the end of 2013 and in autumn 2014. In this respect, this time, too, the price reversal might occur only after some weeks. But the probability that the weakness of the gold price will soon come to an end has – in any case – increased markedly with the current sentiment low.
Hintergrund
sentix Sentiment for gold, investors' 1-month expectations for the market is polled on a weekly basis since 2001 as part of the sentix Global Investor Survey. It reflects the emotions – between greed and fear – of market participants. Negative sentiment extremes are usually a straight indication for rising prices. High optimism, in contrast, may be a warning signal for an upcoming market consolidation. More important turning points are mostly indicated by a sentiment divergence.
The current sentix Global Investor Survey was conducted from July 23 to July 25, 2015. 1,017 individual and institutional investors took part in it.