Written by Julien Mueller | 19 October 2015
Posted in Special research
Investors' core expectations for the Japanese Yen continued falling - reaching a 52 weeks low, as patience with the Bank of Japan (BoJ) vanes. Should the Japanese phase off quantitative easing, pressure mounts on the USD/JPY.
The latest sentix Global Investor Survey shows that the sentix Strategic Bias for the currency pair USD/JPY (the indicator captures investors' six month core expectations for the JPY in comparison to the USD) continued falling to a 52 weeks low (refer to figure). The market impulse ignited by "Abenomics" seems to have evaporated. Not only investors' expectations have fallen since February 2015, but also the momentum for a rising USD/JPY has halted. A rising Yen is not in the interest of the BoJ as this scenario would weaken the export driven Japanese economy. The BoJ is in a tight spot. Should investors fail to receive stimulus in the short-run, the very same are going to vote with their feet - the sentix Strategic Bias is a leading indicator, especially at pivotal points. As demonstrated in late 2013 and mid-2014, investors shift their core expectations before building up positions. Consequently, pressure on prices mount. Hence, a falling sentix Strategic Bias implies a weakening of the US-Dollar in contrast to a strengthening of the Japanese Yen.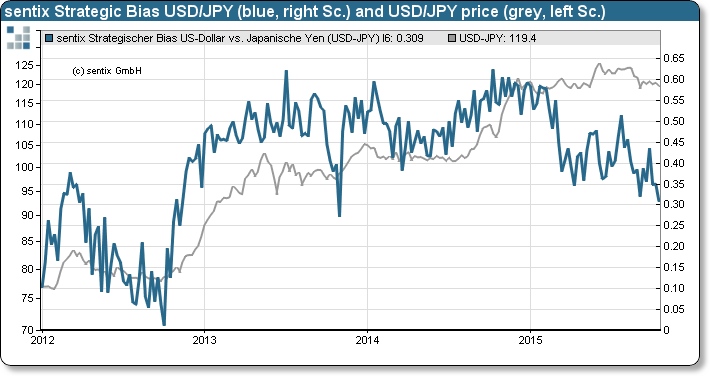 Decisive from an investor's perspective is whether the Japanese Yen abandons its 121 to 118 USD/JPY trading range.
slides=Background|grey}
The sentix Strategic Bias (investors' six-month core expectations) is polled on a weekly basis since 2001 as part of the sentix Global Investor Survey. It reflects the strategic view of market participants as well as their basic convictions and perceptions of value for a given market. As this indicator represents investors' general willingness to buy or sell it should not be interpreted as a contrarian signal. Rather it is usually leading the market by several weeks.
The current sentix Global Investor Survey was conducted from October 15 to October 16, 2015. 1,014 individual and institutional investors took part in it.
{/slides}