Written by Sebastian Wanke | 17 August 2015
Posted in Special research
sentix Sector Sentiment for European automobile stocks falls again in August. The mood among investors is now as bad as is it was for the last time in October 2014. While the sentiment indicator already is in contrarian territory, a chart-technical buying signal is still missing.
For the second month in a row, sentix Sector Sentiment for Europe's automobile sector drops more strongly than for any other sector. It decreases by about 1.3 to -1.6 standard deviations (see "background"), its lowest reading since last October (see graph). At that time it was fears concerning the global economy which let investors turn their backs at the car industry. Now, it is the sorrows surrounding China which – in a relatively isolated fashion – make investors nervous when it comes to automotive shares. A connection to economic expectations for Europe – which look robust – is still missing, though, as shown by the corresponding sentix indices.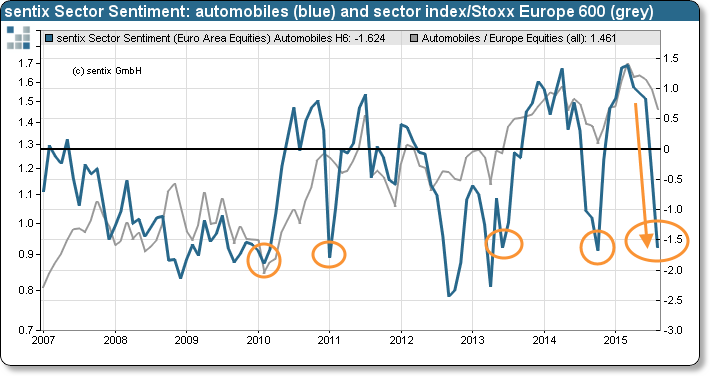 With its current collapse, sentiment for Europe's automobile stocks has reached contrarian territory. At the end of last year, in mid-2013 as well as at the beginning of 2011 and 2010 such low readings were harbingers of marked outperformances (see again graph). Nevertheless, for contrarian investors it is yet a touch too early. Market participants should wait for a chart-technical signal (reversal pattern, re-break) before they overweigh the sector's shares.
Hintergrund
sentix Sector sentiment is a monthly survey being conducted since 2002 among individual and institutional investors via the internet. The survey is run around the second Friday of each month. Investors are asked about their six-month expectations regarding 19 European stocks sectors. They can indicate whether they expect a sector to outperform, to perform as the market or to underperform. The survey results are normalised over all sectors and calculated as so-called z-scores. Z-scores are standard deviations from the mean of a given sample. A value of +1 for a sector senti-ment means, for instance, that the expectations for the sector stand one standard deviation above the mean expectation for all sectors.
The current sentix Sector Sentiment survey was conducted from August 13 to August 15, 2015. 994 individual and institutional investors took part in it.