Written by Julien Mueller | 18 April 2016
Posted in Special research
The latest sentix Global Investor Survey reveals a bullish signal for Chinese stocks amid persistent global market caution. The sentix indicator points to a potential change of the prevailing market regime.
For all major stock markets, investors remain cautious, except for China. In the latest sentix Global Investor Survey the sentix Strategic Bias for Chinese equities excels. We have recorded the strongest weekly surge of the Strategic Bias since data inception in 2009. Furthermore, the strategic bias has risen by 10 points over the last three weeks. A significant event as the sentix strategic Bias expresses the general willingness to buy or sell a security over a six-month time horizon. As the willingness to buy improves, growing confidence promotes the accumulation of long positions. Subsequent market orders propel equity prices.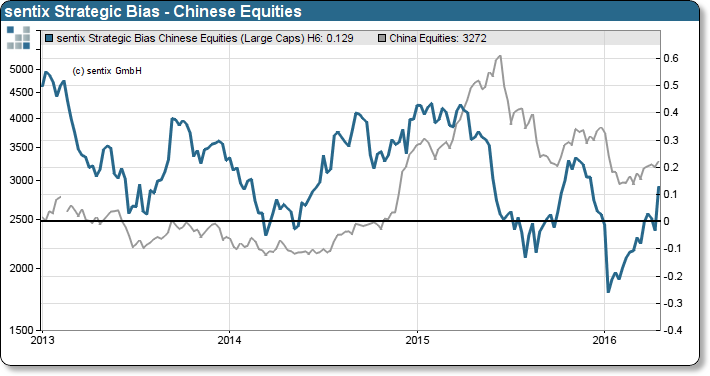 Based on our statistical analysis, investors can theoretically expect an increase of around 2-6% over the next 16 weeks, on average, each time investors confidence has risen comparably strong. It might be a bullish omen for stocks listed in Shanghai and Shenzhen to overcome a roaring bear market.
Background
The sentix Strategic Bias (investors' six-month market confidence) is polled on a weekly basis since 2001 as part of the sentix Global Investor Survey. It reflects the strategic view of market participants as well as their fundamental convictions and perceptions of value for a given market. As this indicator represents investors' general willingness to buy or sell it should not be interpreted as a contrarian signal. Rather it is usually leading the market by several weeks.
In the latest sentix Global Investor Survey was conducted from 14-April 2016 to 16-April 2016. 1067 individual and institutional investors took part in it.